God saw all that He had made, and it was very good. 

– Genesis 1:31
In his book, Leaving Egypt, Chuck DeGroat (2011) speaks of a need to awaken "an insight into [our] original design, [our] original goodness, which has now become distorted". In our brokenness and slavery to sin, "a voice within each of us incessantly repeats [this] lie…that we're flawed at our core…that we're a design flaw in God's good creation". However, "we can only grasp the doctrine of original sin (that sin has infected everything and everyone) if we first grasp original goodness (that we were all created good and in God's image)".
Beauty awakens us. It reminds us of our noble heritage. And these reminders are everywhere! They are literally shouted by the world around us – by "the plants, rocks, animals, sea creatures, insects, the skies and beyond, and especially people" (TfT Handbook) we experience on a day-to-day basis. Like the psalmist David, we praise Him "because [we] are fearfully and wonderfully made" (Psalm 139:14), and do so by engaging in creative acts of our own that reflect His goodness. More than flattery, our imitation of God's creative works can be an act of worship. In this way, our cooking, constructing, writing, moving, playing, planting, designing, and working is redeemed and can be something beautiful in His sight.
We are called to be Beauty-Creators, and as we take up this calling, we have the opportunity to awaken in others their "noble roots as image-bearers created in goodness" (DeGroat), and restore brokenness in our world. Our art, music, and stories – in the hands of the great Redeemer – can be used for such grand purposes! As such, at Cedars, we seek to stimulate, encourage, develop, and "fan into flame" (2 Timothy 1:6) the gift of creativity in our students – that they may serve the Creator and engage in restorative work in His Kingdom. May He continue to bless this work and use it for His glory.
DeGroat, C. (2011). Leaving Egypt: Finding God in the wilderness places. Grand Rapids, Mich.: Square Inch.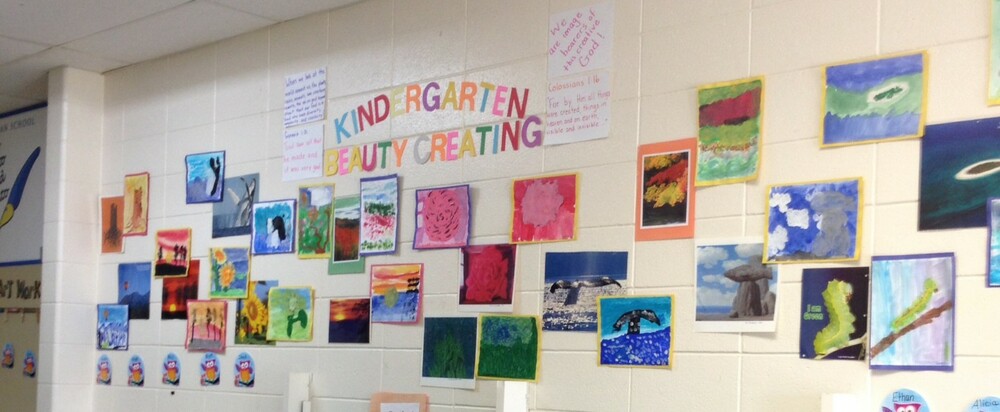 Here is some beautiful artwork done by the Kindergarten Class.